A photograph of a sliced Oak Tree and its beautiful rings, printed on handmade Nepalese Paper, which gives the "old world look". Each sheet of paper differs slightly in detail. Changes in weight, color and texture result in natural, unique outcomes.  The Oak ring against the crisp white background create a balancing contrast which draws the eye to the image in any curated space. Shadow boxes are offered as a recommended framing option. Designed by Barloga Studios.
Soji Crystal Elixir Water Bottle - $80
Crystals are making a huge comeback and each unique type comes with its own set of benefits. Allowing them to have space in your life can bring love, abundance and good fortune to you. With these awesome water bottles, you are able to infuse the power into your water by creating a healing elixir. Bring this ancient practice with you on any adventure!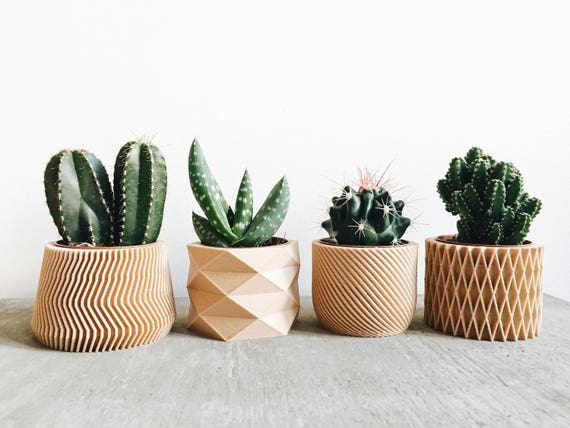 MiniminDesign has showed us another great way to design and create with the forever loved material, wood! 3D printing technologies have given artists and makers the freedom to create shapes with just about anything. This set of 4 planters was made using recycled wood, bioplastic and "lots of love"! A variety of shapes and colors are offered and custom sizing upon request.